De Coene Products and GEZE Benelux sign cooperation agreement
The activities of both innovative door technology specialists are complementary and synergy effects are created through knowledge sharing. In doing so, both manufacturers share the same goal; increasing accessibility and safety in buildings.
Fireproof and accessible: GEZE DCP AutoSlide EI1 30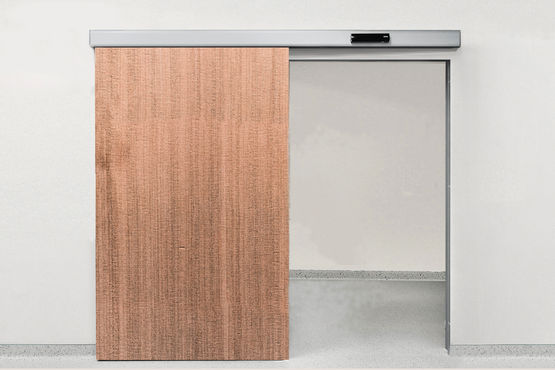 [Translate to English:] Met succes is de combinatie van de GEZE ECdrive T2 aandrijving met houten brandwerende deurvleugels van De Coene Products EI1 30gecertificeerd.
Fire-resistant doors ensure optimum fire safety in a building. By joining forces, both manufacturers have started additional fire tests on wooden fire-resistant sliding doors.
Successfully, the combination of the GEZE ECdrive T2 drive with wooden fire-resistant door leaves from De Coene Products was certified EI1 30. This GEZE DCP AutoSlide EI1 30 offers a unique door assembly that combines fire resistance and automatic operation. This innovative 30-minute fire-resistant wooden sliding door from De Coene Products combined with GEZE sliding door drive ensures automatic and non-contact opening and closing of rooms and compartments.
Sliding door assembly consisting of the following components:
- Wooden fire-resistant door leaf De Coene Products, finish pre-finished, HPL or veneer
- GEZE sliding door operator type ECdrive T2
Concept and operation:
- Wall-mounted sliding door without frame
- Can only be used as a single door
- Automatic closure in case of power failure (thanks to integrated battery)
- Motor operation for opening and closing programmable according to customer requirements
- Automatic sliding open of the door by electrical signal (code keyboard, movement detector, badge reader, push button)
Dimensions:
- Maximum: door leaf 2345 x 1800 mm with opening 2300 x 1700 mm (h x w)
- Door thickness = 50 mm
- Calculation of door leaf size:
-- Height of carcass + 45mm = height of door leaf
-- Carcase width + 100 mm = door leaf width
- Always customer-specific
EI1 30 certified
The required fire resistance classes of the partitions are determined by the regulations in force in the various countries. For Belgium and these sliding door solutions, this is EI1 30. The Coene Products with the GEZE ECdrive T2 is designed to be used in rooms with a fire resistance class EI1 30 according to standard EN 13501-2:2010
The GEZE DCP AutoSlide EI1 30 is now available.
For more information on the partnership or on the GEZE DCP AutoSlide EI1 30, please contact your contact at GEZE or De Coene Products.
Press information
For editorial questions:
Thomas van Gorp
GEZE Benelux
Tel.: +3140 262 90 80
E-mail: t.vangorp@geze.com