INDUSTRY AWARDS 2017 – GEZE among the best
The building technology specialist impressed the INDUSTRY AWARDS 2017 jury with an innovative solution for optimising measuring, testing and automation technology, and ranks among the best in the 'Production Technology and Engineering' category.
Flexible and sustainable manufacturing with a combination valve machine

GEZE has perfected both installation and testing and measuring technology in the manufacturing sector at its Leonberg site, with a combination valve machine that is unique on the market. Using precise automation technology, the new solution makes the manufacturing process more flexible, and reduces the use of resources. This makes manufacturing both more economical and more sustainable.
The innovative solution developed by GEZE was commended by the INDUSTRY AWARDS 2017 jury, and puts GEZE among the best in the 'Production Technology and Engineering' category. The combination valve machine has also been included in the recently published INDUSTRY Bests list. This directory of innovative products and solutions for medium-level industries list award winners as well as exceptionally advanced submissions for the Industry Awards.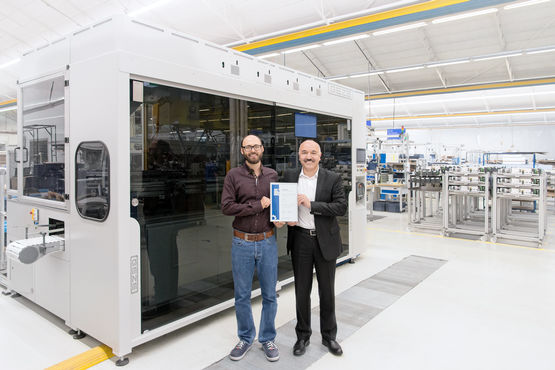 © GEZE GmbH
"Achieving long-term aims and sustainable business have always been a priority for GEZE. This also includes the responsible use of natural resources, and the associated verifiable global responsibilities. This means we focus as much on continually improving our manufacturing processes as we do on our products," says Lutfi Bozkurt, Area Manager for Production Planning and Engineering at GEZE. "We are therefore all the more delighted to see our latest innovative development in manufacturing rewarded."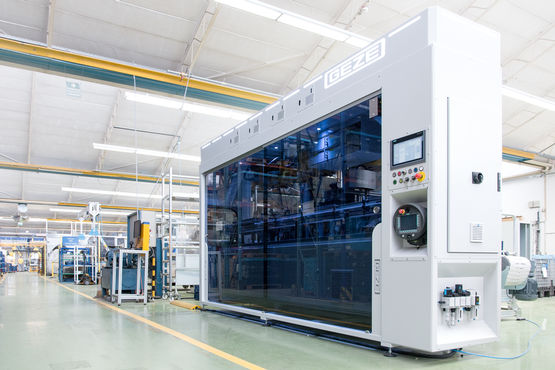 For GEZE, sustainability starts with manufacturing
The combination valve machine turns a pure carrier system, - a transport system in manufacturing - into a device puts parts into position, keeps them there and fastens or guides them. Different versions of GEZE's overhead door closers can be installed with the same system, without any preparation costs. This creates minimum cycle times with maximum process safety, and subsequently, economical and sustainable manufacturing. Compared to the previous space demands, different automation processes are condensed into a system which is three times smaller. This reduces the area required for manufacturing, the use of materials, and saves resources. All elements of the system have proof of their energy efficiency. Compared to a standard system, energy consumption is reduced by more than 50 per cent.
Another special feature of the system is its individual lighting concept: different light colours represent different system statuses. For example, if there is a lack of a certain material, the lighting concept (colour and light pulse) sends a signal to the surrounding area – logistics, for instance – guaranteeing intuitive and targeted replenishment.