GEZE receives two seals of approval: Top Employer Germany 2018 and FOCUS MONEY
GEZE is once again among the top employers in Germany. GEZE received the seal for the fifth time. The business magazine FOCUS MONEY has also named GEZE one of the employers offering the best and most secure jobs in Germany.
Sustainable jobs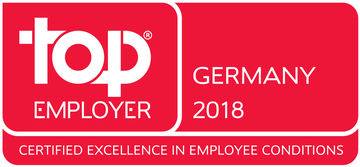 For the majority of (future) employees today, a good job must promise a secure workplace with strong indications of a reliable and predictable future. FOCUS MONEY investigated the sectors and German companies where jobs are particularly safe and sustainable. In the GERMANY TEST series, a scientifically supported study identified 'Germany's best sustainable jobs'.
Fact after fact...
The FOCUS results are based on analysis of a company's consistency in terms of the key performance indicators of increase in employees, turnover and profit. All three criteria had to be met cumulatively across a period of five consecutive years. Together, the values reflect economic prosperity and thus future job security. The overall calculation also includes information about whether a company is recommended by its own employees and as an employer in the industry.
We are proud of both awards. The criteria used in the judging complement each other, and are very much in line with our family business' set of value. Employee orientation is our focus. It is one of the pillars of our continuous development and the company's organic growth.
Brigitte Vöster-Alber, CEO
Auditing process with high demands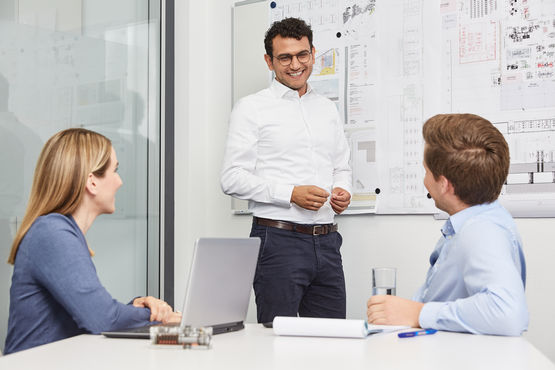 GEZE offers excellent roles with plenty of responsibility. © Karin Fiedler / GEZE GmbH
The Top Employer Germany s certifies only those companies that have proven that they meet the highest standards in their personnel management and strategy. "We individually support our highly trained specialists and executives, emphasising skills that are important in the future. Our employees are the guarantors of our innovative strength, and it is they we work with to produce new developments. It was only with their ideas and commitment that we were successfully able to enter the building automation market in recent years. We are pioneers in the automation and networking of doors and windows in smart buildings," says Chief Executive Officer Brigitte Vöster-Alber.
The results of the comprehensive auditing process by the Top Employers Institute show an outstanding working environment: GEZE offers challenging tasks with plenty of scope to take responsibility, interesting prospects, and a broad training and study programme in an innovative and international environment, combined with the advantages of a medium-sized family business. This includes flat hierarchies and short decision paths, development possibilities, an above-average performance-related compensation and company pension scheme, a good work/life balance as well as an open company culture.
About the quality seals:
Top Employer Germany and Focus Money:
The Top Employers Institute analyses the leading top employers globally to find those thatoffer excellent employee conditions, promote talents in all company areas and continuously develop their employee focus. As part of thecertification, all the companies are subject to the same stringent auditing process. To guarantee objectivity of the entire certification process, all the results are additionally checked by a major audit firm.
Germany's best sustainable jobs
In the FOCUS MONEY GERMANY TEST format, the study was carried out in collaboration with Prof. Dr. med. Werner Sarges, an expert in management diagnostics. The aim of the study is to make companies more transparent and comparable. The study assessed the performance indicators of 5,000 companies based in Germany with the highest number of employees. A total of 491 companies from 52 different industries were awarded.