''GEZE receives the 'Eiserner Gustav' award and is named Supplier of the Year 2016
On the evening before the Fensterbau Frontale trade fair in Nuremberg, GEZE was awarded the 'Eiserner Gustav' as Supplier of the Year for its excellent work in the area of 'training support', for the second time recognising the quality and scope of this GEZE service offer.
Exemplary training services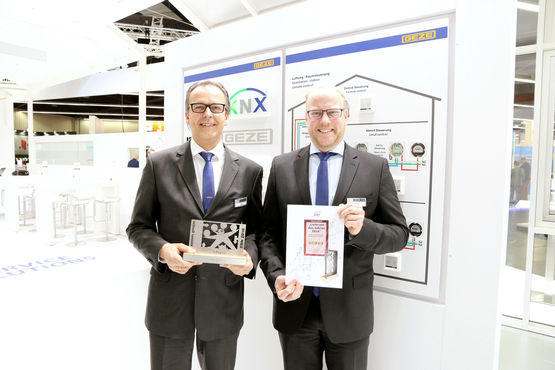 EBH EURO Baubeschlag-Handel AG, Europe's largest collaboration of traders in the construction fittings market, grants the award as an expression of its appreciation of the exceptionally exemplary work delivered by its suppliers. 80 per cent of EBH specialist traders took part in the large-scale online survey, and voted for GEZE as this year's overall winner in the training support category
"We are delighted that the EBH members appreciate our work and are proud to have received the award. Comprehensive service is one of the most important factors for successful collaboration, and is high on the agenda at GEZE. Part of this is a comprehensive range of training courses which we continually optimise and further develop," says GEZE Managing Director Sales, Thomas Kirn.
The complexity of these is increasing with the growing demand for door and window systems. Optimally adapted to the use of a building, doors are required to fulfil a variety of functions: some of the most important of these include accessibility, fire protection, natural smoke and heat exhaust ventilation, emergency exit protection, burglar resistance and access management. The most stringent of security standards and aesthetic criteria also define doors in modern buildings. The networking of door and window functions and their integration in building management systems is playing an increasing role. Across all these demands is the need to be within a defined time and cost framework when designing buildings.
Complete approach for optimal results
GEZE consciously brings this complexity into its training concept: The complete approach is one of the deciding factors for the high value in use and the quality of GEZE training courses. Installation engineers, distributors and builders receive valuable professional knowledge, not just for their own range of tasks. GEZE consciously creates touch-points with all the other relevant areas of construction, e.g. downstream product groups such as architects and planners. This comprehensive collaboration enables the product groups to coordinate across interfaces at an early stage, and planning aspects to be taken into account.
Conversely, during architect and planner seminars, the GEZE building experts explain the challenges which installation engineers and the individual product groups must be able to deal with during the project roll-out. Integrating these interconnections not only leads to optimal overall results when fitting buildings with doors and windows – the holistic training concept also creates synergistic effects, increases efficiency in building construction and helps to prevent errors (which often incur additional costs to put right!) from the outset.
Multi-disciplinary training programme
At its in-house training centre at its head office in Leonberg, GEZE offers a comprehensive programme of training and qualifications, including seminars, courses and presentations for manufacturers and installation engineers as well as architects and planners.
The programme ranges from product, application, installation and expertise training through to courses to support sales. Even in terms of standards, successful installation engineers and planners always need to be up-to-date. GEZE therefore of course also offers seminars on standards and directives, and how these apply in practice. GEZE also keeps its customers and partners up-to-date with industry expertise, interesting technical topics and information about new products. The training consultants are experts in their field and convey the latest knowledge clearly, using plenty of practical examples.
Attendance at the events is confirmed with certificates of attendance and professional competence awards. Many of these are recognised in the context of further training for architects. The range of training courses is flexible and mobile: GEZE also offers a range of fully tailored individual training courses and talks away from the GEZE training centre.
Press release
For editorial questions
Julia Graf
Phone: +49 - 7152-203-505
Email: j.graf@geze.com
Contact us