Focus Open in Silver GEZE ActiveStop receives major design prize
A further award confirms the design quality of GEZE ActiveStop: Having already received an award in 2015, the door damper for interior doors has now been recognised with the Design-Center Baden-Württemberg Focus Open 2017 award in Silver for the new version that is fitted on the door frame. The product is on display until 22 November 2017 in the accompanying exhibition in the 'MIK Museum Information Kunst' museum in Ludwigsburg.
Innovative product solutions with exceptionally high design quality

At the heart of the prestigious award is design quality. The panel recognised the GEZE ActiveStop door damper in the new version fitted on the door frame as an innovative product solution with exceptional design quality, and awarded it a top position in the 'Living' category.
GEZE ActiveStop promises a new kind of comfort for doors, combined with elegant design. It is easier and more comfortable to enter a room than ever before. The intelligent system ensures controlled, dampened opening and closing of interior doors – whether in a retrofitted on the door frame variety, which can be attached and easily removed again, or discreetly integrated into the door leaf. Thanks to the minimal integration depth, the door damper for interior doors meets the most stringent of design demands and integrates invisibly in virtually every door leaf.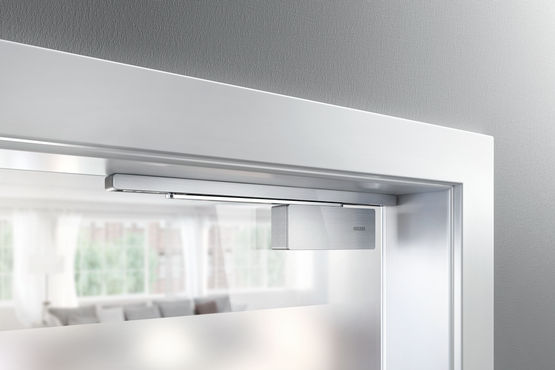 © GEZE GmbH
Gentle stopping – hold-open with ease – silent closing
The intelligent ActiveStop door damper prevents damage to walls and furniture in the vicinity of the door, and to the door itself. Whether with a gentle, or more energetic push – GEZE ActiveStop opens doors independently up to an individually adjustable hold-open position of between 80 and 140 degrees. Doors are halted at the right time and kept open securely in the required position. Thanks to active damping, they close gently and quietly when they reach 25 degrees. Furthermore, GEZE ActiveStop keeps individual doors securely closed. No lock latches are needed. Doors run freely at between 25 and 60 degrees. They are halted securely from 25 or from 60 degrees.
About the Focus Open competition

Since 2015, the prize has been awarded as the Focus Open.
The Baden-Württemberg international design award – known since 2015 as the FocusOpen – looks back on a long tradition and is highly regarded both at home and abroad. The Design Center Baden Württemberg invites companies and designers worldwide to take part. The 'Focus Silver' award goes to products whose design quality and innovative solution impress within a category.