32nd Stuttgart German Masters international horse show
showjumping Bertram Allen of Ireland and his eight-year-old stallion Dino W completed the winning round of the challenging international showjumping competition without penalties, and in the best time of 40.18 seconds. This won him the GEZE GmbH Prize at the world-class Stuttgart German Masters horse show on 19 November 2016.
The winner of the horse show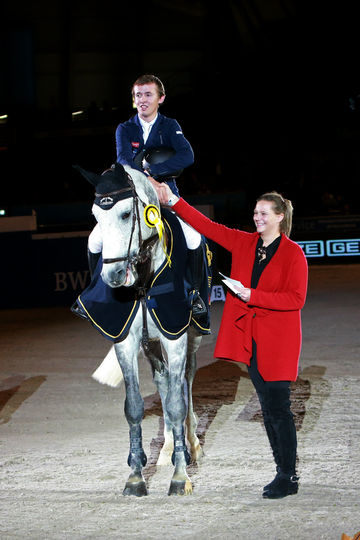 At just 21, Bertram Allen was the 'Shooting Star' in the world-class league of showjumpers, and still leads in all the major events. In 2014, he won the World Cup stage in Verona, and again in 2015 in Bordeaux. He came third in the World Cup final 2015 in Las Vegas, and he has now also won the GEZE GmbH Prize. Sandra Daniela Alber, Managing Director of GEZE GmbH, congratulated the winner, and presented him with a precious horse blanket in GEZE colours and a gold coin.
Second place went to the Colombian Carlos Enrique Lopez Lizarazo on his nine-year-old mare Cuplandra who completed the final course without penalties in 41.01 seconds. In third place was to Philip Rüping with the nine-year-old mare Clinta. Horse and rider also completed the circuit without penalties in 41.12 seconds. A total of 47 horses and riders were at the start line for the GEZE showjumping competition in the challenging category 5 (CSI 5*).
The GEZE GmbH Prize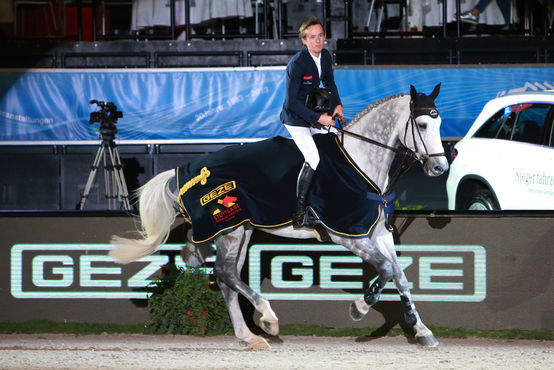 The international company GEZE GmbH, a global market leader in door, window and safety technology, has for many years been committed to horse-riding, and sponsors the Stuttgart German Masters with its own top-level jumping competition, the GEZE GmbH Prize.
The Stuttgart German Masters has long been one of the major riding events in the world and offers the largest indoor track of the International Federation for Equestrian Sports, the FEI. The Stuttgart event is one of the World Cup stages in jumping: the biggest test, the 'Grand Prix of Stuttgart', counts as a qualifier for the World Cup Final in jumping (Longines FEI World Cup Jumping), which will take place in April 2017 in Omaha in the US State of Nebraska.